I'm not overly impressed with the Defrag utility in Windows XP. In my eternal quest to try and speed up my mysteriously slow work machine, I decided to give it a go. Cleaned up a bunch of files first, to give the C: drive 6.5Gb free (out of 29.3Gb). Analyze: said I should defrag. OK, so I left it running over night…
Came in the next morning. The little colour graph showing where files are didn't look terribly different from how it was left. Still lots and lots of red (fragmented files). It said it couldn't defrag some files… basically anything over 15Mb.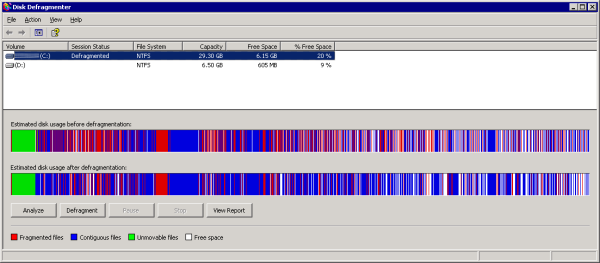 Out of curiousity, I clicked Analyze again. "You should defrag this volume." What, again? What's the point?!
I did some more purging and eventually ended up with about 10Gb free. Tried it again. Better, but it still couldn't/wouldn't move anything bigger than about 30Mb. Weird.
At least the machine seems to have sped up a tad now.