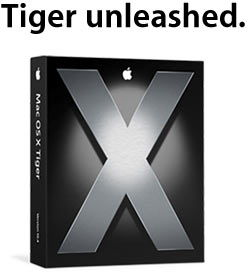 Here's my brief review of the launch of Apple's latest Mac operating system – Tiger (10.4 for those of you who prefer numbers to wild animals):
I left work at 5pm last Friday and headed for the Apple Store in Regent Street, which is thankfully only a ten-minute walk from my office. When I arrived it looked as if there was no queue – just a few people milling about… then I looked beyond the entrance to the metal railings and a long qieue.
I ended up around the corner, down a side street. I answered a few questions from puzzled passers-by. Probably not too exciting for the average tourist. There was a camera crew scanning the queue – probably for Apple promotional rather than broadcast.
At 6pm we started moving into the store; it was packed out. Lots of tables piled high with the Tiger boxes. We were all given a scratchcard, with the chance to win a PowerBook or some other equipment. I won a free iTunes download – oh well, I can dream…
In the gallery a presentation of the main features of the new OS began. We saw the dashboard, spotlight, the automator; all great new functions of 10.4 that mean "once you've used it, you'll never go back to 10.3". Several people were already installing Tiger on their laptops.
I am not sure what I was expecting from the launch – possibly a bit more 'pazazz' – but then maybe that's not Apple's style. I only stayed until about 8pm anyway, so they may have done more interesting stuff later on. In any case, I was keen to get home and install the OS.
More experiences with Tiger to come…