In previous versions of Windows, they made it easy to change the default power option to be Log Off. This is handy for me – we tend to leave our PCs on, but logged off most of the time (with the power settings such that they put themselves to sleep).
Not so in Windows 10. If you Alt-F4 (close window) on the desktop, it'll default to Shut down.
Worse, they've renamed all the options so that you can't use a letter as the initial for Log Off. S now stands for not just Switch User and Sleep, but also Sign Out and Shut Down!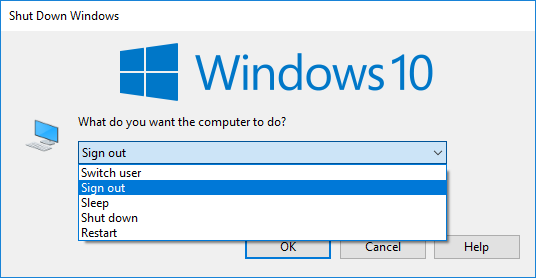 Thankfully there is a way to change the default. It involves going into the Registry.
Go to: HKEY_CURRENT_USER\Software\Microsoft\Windows\CurrentVersion\Explorer\Advanced
If it doesn't already exist, create a DWORD Start_PowerButtonAction
Defaults are as follows (in decimal): 1 = Sign out, 2 = Shut down, 4 = Restart, 16 = Sleep, 64 = Hibernate, 256 = Switch user
Beats me why they didn't build that into the UI somewhere.
Unfortunately it doesn't affect the Start / Power button.
For ease of use, we also created a prominent Log Off short cut on the desktop/Start menu, pointing to:
C:\Windows\System32\shutdown.exe -l
(That's a lowercase L)