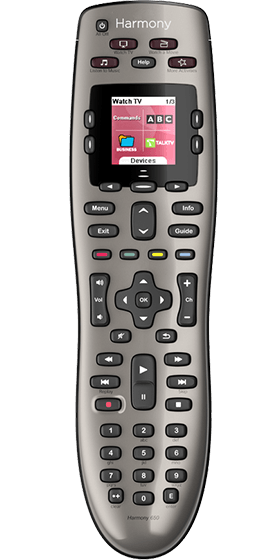 I bought myself a Logitech Harmony 650 universal remote, $59 at Officeworks (RRP $89.95).
The packaging and some of the promotional material says it replaces 5 remotes, but it's had a firmware upgrade and now replaces 8, so I think it's pretty good value.
Although Logitech sells a range of remotes, I decided $59 was a sweet spot for what I wanted to do. This model can't control Bluetooth devices such as the Wii U, or those controlled via WiFi/LAN such as Sonos — you'll need to spend up on a more complex model for that, but personally I couldn't justify the $240+ investment.
To set it up you plug it into a PC/Mac and install a setup program which guides you through it. All pretty easy, and even works with my obscure no-name PVR.
Curiously it didn't recognise my Panasonic Blu-ray player, but it made an educated guess as to what IR sequences would match, and that worked well.
It lets you set up Devices, then group them into Actions (eg Watch a Blu-ray: turn on the Blu-ray player, turn on the TV, switch it to AV, turn on the Receiver, switch it to HDMI1/Blu-ray).
The defaults for some of the actions are a bit odd, for instance the menu navigation for Watch a Blu-ray turned out to default to navigating the TV menus. This can be overridden to a more logical setting.
One issue I've noted: the TV takes a really long time to start up… easily 10-15 seconds to be ready for viewing. It looks like the remote doesn't allow enough time before changing to the appropriate input/channel, and the TV misses this step. You can insert delays in some parts of Activity sequences, but it appears not here.