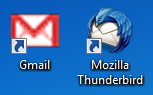 A quick timing test on my main home workhorse computer, which isn't the fastest in the world, but isn't the slowest either. (Windows 7, Athlon 64 X2 dual core 4400+ 2300 Mhz, 3 Gb RAM, on a fast ADSL2+ net connection.)
Having started Windows and logged onto a clean desktop:
Start Chrome with GMail set as the home page: 8.5 seconds to ready
Start Thunderbird: 11.6 seconds to ready
No wonder people are heading into the cloud.
Subsequent timings (without a reboot, so some things may be cached, eg later in a session when you've closed your email and you want to go back in):
Chrome with GMail: 3.4 seconds
Thunderbird: 3.1 seconds
Interesting.