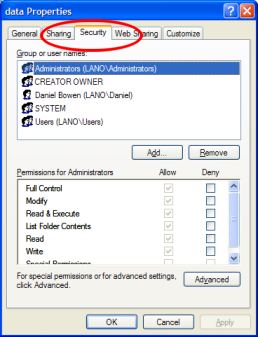 I'm thoroughly used to the security options on resources (files, directories) that has been around in Windows (XP, 2000, NT) for years.
So it completely threw me when it vanished from the new XP SP2 installation I set up on the secondary PC. I was trying to get Midtown Madness 2 working for non-Admin users, and couldn't find anywhere a way of making its directory writable to everybody.
The Security properties would only show me some dumb-arse sharing options that related only to sharing across the network. I didn't want to do that.
"Put the directory in the Shared Folders!" said the help. Uhh yeah, like that's gonna happen. It's in smegging C:\Program Files.
I checked the drive format. NTFS; should be fine. I checked it against my other PC, which was showing the security tab for every file system object. Why was this not appearing?
With Jeremy keen to play the game, but me not keen to let him loose on an Admin account (even for a few minutes; it's not a habit we should be encouraging), I searched MS support. Nothing. I Googled.
Finally I found it… some obscure yet useless setting called "Simple sharing" was turned on. Default if you are in a workgroup, apparently.
Simple sharing is so useless it must be designed for Simpletons. And I can't understand why the Windows Help and the MS support web site were unable to give me the solution — (at least, until I knew the magic words Simple sharing).
Bloody Microsoft.