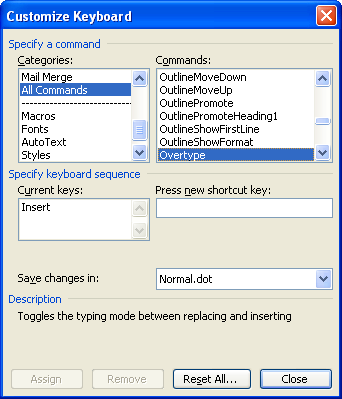 I can't tell you how much I hate Windows' overtype mode. Accidentally tap the Insert key, and you suddenly find your typing overwriting old text. Who would use such a pointless thing?
And it's doubly worse in products such as Word, where the only clue that you're in this stupid mode is the almost-invisible ungreying of the letters "OVR" on the status bar.
Even worse in other apps: Excel has it, invisibly, only when you're editing cells. Powerpoint doesn't have it. Thankfully Ultraedit noticably changes the cursor when it's invoked.
It's there, but invisible, in Outlook. If you set Outlook to use Word for editing messages, it does it invisibly because the Word email window has no status bar, but if you have a Word window sitting in the background, you can see the OVR status light up on that!
At least it can be disabled in Word:
Tools -> Customize -> click Keyboard
In the Categories, choose All Commands
In the Commands list, scroll down and find Overtype
In the Current Keys box, the word "Insert" should appear. Click on this, then click the Remove button. Then close the dialog boxes, and you're done.
Wouldn't you know it, this setting isn't global throughout Office. So the Insert key will still do stupid things in Excel and Outlook. (Using Word for writing Outlook messages will get around it, but that might be too big a price to pay.)
See also: MS KB 198148