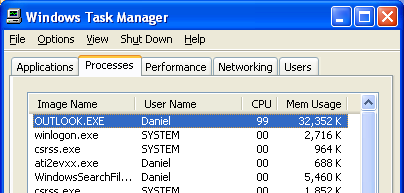 You know what really bugs me about Windows and Office sometimes? Sometimes a process will just decided to grab all the CPU and go out to lunch for minutes at a time. I don't know what it thinks it's doing — re-indexing its data, re-compiling itself, contacting Mars, something like that. Whatever it is, it's not paying much attention to what I want it to do.
Outlook just did it. I was in the middle of writing an email. Voom, out to lunch. I managed to save it and exit. And the process kept running till I killed it. WTF? And before you ask, yes, my antivirus and firewall are primed, up-to-date and running. Latest releases, latest service packs of everything. This stuff should be stable.
Annoying, that's what I call it.