About to upgrade this blog to WordPress 1.5.
11:40pm. Done. The main difference noticeable to readers will be that your comments automatically go to moderation if you've never left a comment before.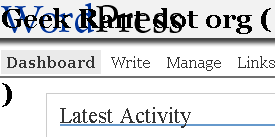 One thing notable to us authors is that the top of the admin pages looks a bit screwy in Firefox (but okay in IE). Not sure why that is, because WP1.5 doesn't do that on my other blogs… something to look at when I have more time.