Well the response when plugging the iPod into my computer at work was the same as that at home: nothing. It appears something caused the battery to stop working.
So I rang up Apple support, and after they had me attempt resetting it again, put me on hold. When the guy came back he proclaimed it to be a battery problem, and said it would need servicing. Sigh. He then gave me the URL for requesting service. I clicked through to this, only to find their server down, returning a 500 error. Terrific, this gets better and better!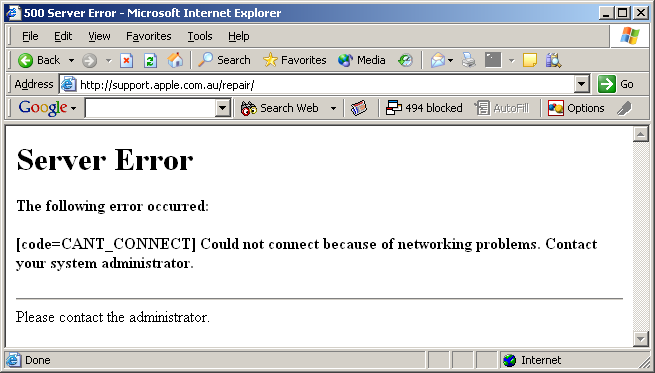 A couple of hours later it was working. It leads you through various disclaimers including having you read a long list of terms and conditions in a small font. (Why do they put it in a small font? It's a web page fer chrissake – it doesn't use any more paper or bytes to be in a normal-sized font.)
I tapped in all my details and ended up with a form to print and take with the iPod to the post office. There the bloke scanned off the form, and gave me a PostPak and bubblewrap to put it in, and sent it off, postage-free.
Unlike when you get a battery replacement, apparently they will actually fix your iPod, rather than sending you a replacement one. And the bloke said it may take up to 14 days… which is a helluva lot better than some repair places.
So now, I wait. Sigh.