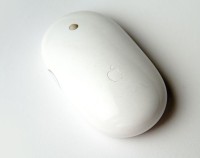 We've got an iMac in the PTUA office which I use on the odd occasion. I've gradually got used to the world of MacOS, but one thing I still hate is the Mighty Mouse.
There's something about the feel of it — the non-buttons, and the scroll wheel in particular. I hate the feel of it. It feels really uncomfortable in my right hand; it leaves my fingers tingling in a most unpleasant way. And it's not much better in my left hand either.
I don't recall having this kind of reaction with any other mouse. And I don't even understand why this one feels so bad to me.
It's odd. Anybody else had the same sensation?
(Pic credit: Wikipedia)