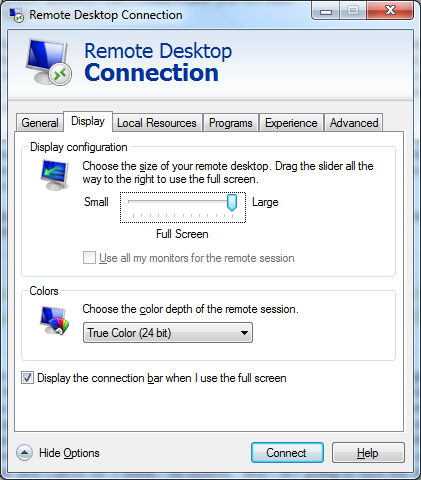 If you can spontaneously change the resolution of Windows in a Virtual Machine, how come you can't do it in a Remote Desktop session?
I'm forever opening up RDP sessions in the wrong resolution, because the RDP client seems to have a funny way of selectively remembering (or forgetting) the preference.
Sometimes if focussing entirely on the remote session, I'd like it to be full-sized. At other times I'd like it smaller so I can more easily jump between things.
Is there something complicated that stops RDP windows being resized after connection has been made? If it is possible in a VM, presumably it can't be too hard in RDP?
It looks like in Windows 8 and later you can easily turn on "smart resizing", and in earlier versions this can be configured in the .rdp file. But this scales the window at the original resolution, rather than changing resolution.
It'd be nice if proper resizing of the window was possible.