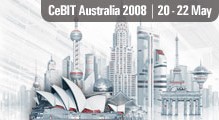 Ooh cool, a promo for CeBIT Australia, offering a special code to get free entry… at least, to the exhibition. Email doesn't say where it is, but links to promo web site.
Sounds cool. I wonder where it is? Might I be able to take a look without paying for air fares plus accommodation?
Promo web site says when it is (May 20th to 22nd), and tells you how to get free entry. But doesn't say where it is. Points to mycebit.com.au.
mycebit.com.au is the registration site. FAQ page lists a bunch of FAQs about the site, not the event. Registration page doesn't talk about price or location (at least on the first page). Prices page has no location info.
WhyTF won't they tell me where this thing is?
There's also a link to cebit.com.au. The first page has links to conference info, sponsors, a big Register Now! link. But no location info. All I want is one word: the city it's in. There's a CeBIT graphic in the top-right… I can see the Sydney Opera House in it. But it also has buildings from all around the world, so that's no real help.
I finally found it hidden in the text three-quarters down the page. I also found it buried in the visitor information. It's in Sydney. Now, why couldn't they have said that half-a-dozen clicks ago?
(Confession: I went back to the original email and eventually found the venue info in there too. But I do like to rant.)