Now, I know there's a lot to like about Facebook.
And I know the way it's open to developers to fiddle about with it is part of its success.
But this in turn gives it a usability problems. For example, I noted a video on my home page, shared by someone I know. It looked interesting.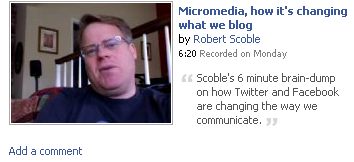 So I click it.
It doesn't play the video. Nuh uh. Because I'm new to Facebook, instead it shows me a scary security dialogue offering to add the Facebook Video application to my account. And because we all know these days to be very wary of security dialogues (they mean something bad might happen if I choose the wrong option, right?) I have to very carefully read all of it.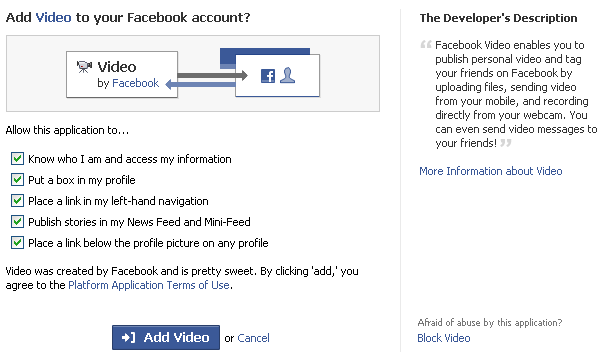 WTF?! Five security options, an application description and a disclaimer and a link to the Platform Application Terms of Use, plus a link in case I'm Afraid of abuse by this application? I JUST WANT TO WATCH THE FREAKING VIDEO!
You don't get this problem with YouTube. Well, not if you're one of the 99%* of people who already have Flash installed. (Hey, Facebook Video uses Flash as well, as it happens.)
*This is a guess, though from memory it's something like that.
Seriously, all this is too much information. (And it turns out the first option is compulsory for this application — if you decide to be ultra-careful and don't say Yes, you can't have Facebook Video.) For something which is not actually an infrastructure security issue (unless I've seriously misread how Facebook works, all this lives inside your browser; nothing's coming down to be installed on your computer), but is more of a privacy issue, I'd argue that sensible hidden defaults, only shown if the user is interested, would be more suitable for this kind of thing.
Now, as to why you'd post video hidden away in the Facebook walled garden, rather than on Youtube where anybody can find it… I can only assume that you don't want too many people to see it, that you're being fussy — you only want your "friends" or a particular demographic watching. It's a little counter-intuitive when for most, it's hits/views that are what we're looking for — the more the merrier.
I guess that's why I'm a Facebook cynic in general.