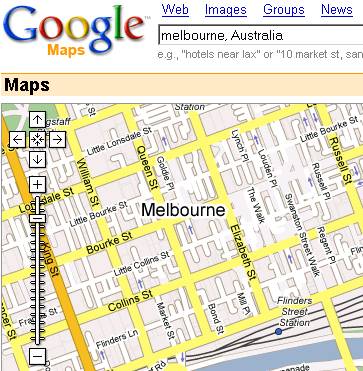 Google maps has reached Australia.
Love them draggable maps. Seems reasonably accurate. There's some interesting errors, for instance there are Melbourne Tennis Centre access roads shown (which is right) overlapping old rail lines (removed years ago).
For every day use not as detailed as Melway/Ausway (no public transport routes or house numbers marked, for instance, many points of interest missing, such as sports venues) but if you zoom right down, it does intriguingly include property borders. Hey, I can see my house from here.
Alas, the satellite maps for most of Melbourne are still pretty fuzzy.