Outlook now has links to MSN Mappoint, providing driving directions. Though I never drive in or out of central Melbourne unless I absolutely have to, I decided to see if it and a competitor, Multimap.com, could plot me a path home.
The main problems with these types of map sites is
the data is inadequate (often a problem with international companies trying to cover lots of cities), or
the mapping software decides you should do something wacky (which I'll admit, is often down to the data again, though sometimes it seems to be the algorithms used)
Mappoint wanted to know which of two identical "247 Flinders Lane" addresses I wanted to use. I tried both, and both gave the wrong position along Flinders Lane. (Not bad, but a search for an address on Collins Street gave me 8 to choose from.)

Mappoint also told me to drive down Kingsway/Queens Road, then do a right hand turn at St Kilda Road. Most Melbourne locals would know that you can't do a right hand turn there. Like, physically, you can't. Queens Road passes under St Kilda Road. If you want to do a right hand turn, you have to do a left a bit earlier and go via Union Street.

Multimap found the right spot in Flinders Lane. It then suggested I go left into Elizabeth Street (okay), left into Flinders (okay), then right into St Kilda Road — wrong! No right turn allowed there.
Rather than send me straight down St Kilda Road, it had me take a right via Albert Road to Queens Road, then left via Union Street back onto St Kilda Road. Pointless and confusing.
But it gets better. Rather than drive straight down St Kilda Road/Brighton Road/Nepean Highway, it got me to do a quick diversion around some of the side streets of Elsternwick, before turning back onto the highway. WTF?!
And according to Street-Directory, one of those side streets is actually blocked off to through-traffic. Pure genius!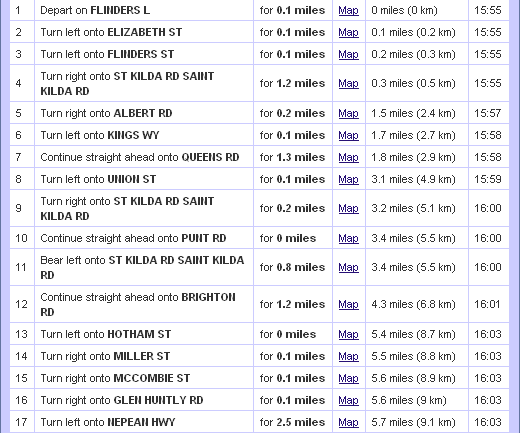 Lest you give up and decide to catch public transport, rest assured, the Connex trip planner is no better. Instead of telling me to walk half a block to Flinders Street station, it instead got me to unnecessarily wait for a tram to go three blocks to Flagstaff station.
In the past it's provided even more stupid directions, suggesting you catch a tram in the wrong direction, then another back again, or needlessly change trains.
(PT umbrella organisation Metlink is working on a better planner, and are considering feeding their data into the new Google PT planner, too.)
It seems no matter which way you're travelling, it doesn't pay to trust the online trip planners just yet.