In case you'd forgotten what 5¼ inch diskettes look like, here's a reminder.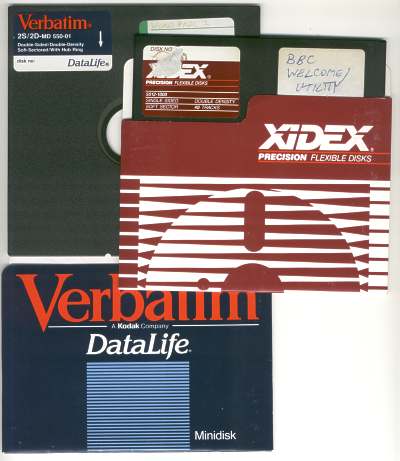 My kids noted: "So they really were floppy!"
I wonder what ever happened to the Xidex company? There seems to be little information on them on the web, but a few ebay sellers are selling unused disks. Verbatim are still around.
Why were the disks out? Today I set up my old BBC micro to see if it still worked, and to ponder putting it on ebay. It did work, but some of the disks reported errors. On closer inspection, some appeared to have mould or some other kind of growth on the magnetic part.
Possibly if I really had to retrieve the data, I could find someone to recover it, but there's nothing important on them. It does serve as a reminder that every so often you should refresh your vital data from whatever media it's stored on, onto something new.