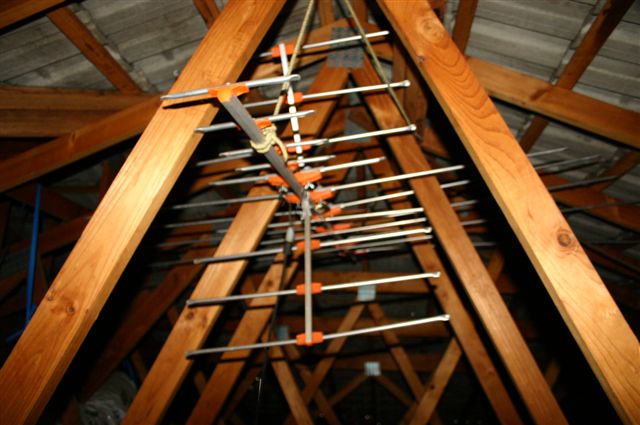 When we moved into the new home, I couldn't find the TV antenna. But when we plugged in the TV, we got acceptable reception and then lazyiness kicked in. But the digital reception doesn't cut it, so I decided to find out if our TV reception was coming from a coat hanger or something more sophisticated. Turns out you can hang an antenna in your roofspace using a length of rope and have a passable signal. Excpet for SBS. Pretty roofline, poor reception. A pretty roofline would be more important if it didn't already have a evaporative cooling stack and a skylight breaking it up.
It's winter here, and the roofspace was roasting hot. So, while the insulation had been abused and moved, there was enough of it doing it's work that… gaugrh. Hot.
I also found out that our ventilation fans vent straight into the roofspace (great for both heat loss and moisture damage) and that our kitchen extractor fan doesn't vent anywhere, even though it has a riser in the kitchen. Another housing disaster I'm going to have to address.
Now I need to buy a post to externally mount this bastard of an antenna onto. And a length of coax… or perhaps I'll recycle one of the many lengths running around up there. There used to be a satelite TV link running off to the garage, I think that one might be long enough (turns out no: satelite hook-up was disconnected with wire cutters, leaving insufficient wire to make the distance). Currently the coax runs into a four-way splitter (three splits used), and I have my concerns that the splitter is contributing to our reception issues. Any opinions?