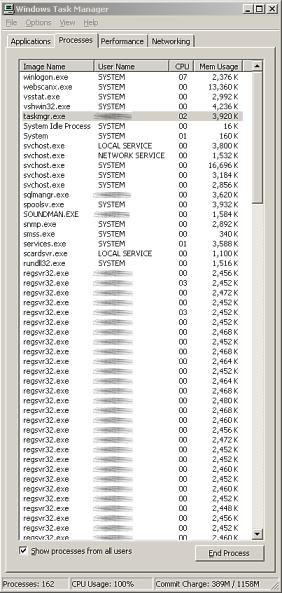 I was getting very odd results from Regsvr32 (the program for registering COM objects in Windows): it wasn't doing anything other than creating a lot of processes which burned CPU for about 30 seconds before dying.
At first I thought it was the DLL I was trying to register. But even running the command with no argument produced the same result.
It turns out some errant install had replaced my pristine Windows XP SP1 copy of regsvr (version 5.1.2600.0) with some old copy (version 4.00.1381, which sounds suspiciously like it is from Windows NT 4).
Having found a colleague's pristine copy, all was well again.
Mind you, XP complained shortly afterwards that some vital system files had been replaced, and asked for me to insert the XP CD. Do you think it would tell me which files had been replaced? Nope. Even the More Information button on the warning merely elaborated on the fact that the wrong CD was in the drive. Yeah, very useful.