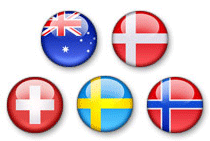 AppleInsider has found the icons for the new iTunes countries, thereby confirming iTunes is about to start in Australia, Switzerland, Sweden, Norway, and Denmark. Not before time for those AU-ers among us. I'm seeing more and more of those white earplugs on the train to work.
It'll be interesting to see how it goes. So far all the Australian online music stores have concentrated on selling protected WMA files. These haven't been setting the world alight, partly of course because the files are useless for legions of iPod owners, and from observations, there are hardly any non-iPod portable music players out there in userland. And for myself, I'd refuse to buy files that won't live beyond the (hopefully long but inevitably limited) life of my player.
Record companies must surely be waking up to it by now. They can't copy-protect conventional CDs properly — it either breaks the Red Book standard (and thus compatibility) or it doesn't work. Anything they try is either useless or has been hacked. So you might as well just sell MP3s. They're no more vulnerable than CDs. And it's better to be selling copyable songs than no songs at all.
And the reported Apple price of A$1.80 per track is competitive. A quick scout of some WMA-selling stores showed a typical price of A$1.89 per track, with top ten hits at A$0.99.
The other thing this week for Apple fans is the OS X "Tiger" release, though I'm sure they all already know that.