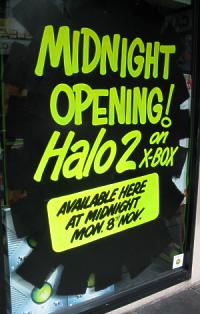 It's not just Firefox which is released on the 9th. The Halo 2 publicity bandwagon is in full swing, with its official release on Tuesday… or for those who can't wait a second longer than is necessary, midnight on Monday night. The "Master Chief" mascot appearances (unarmed) have been happening over the last couple of months, the Australian Halo 2 web site has a splash of local content — for browsers from Melbourne, the Covenant fly in over the Rialto towers (presumably while the Halo 2 tram passes nearby).
A number of shops will be open for sales on midnight (including the pictured one in Chapel Street, Prahran), but Myer stores in Melbourne and Sydney will be holding all-out parties, with music performances, giveaways and appearances from celebrities such as local footballers and one of Paris Hilton's cast-offs.
It's a reminder that the video game biz is worth big bucks. The first Halo did a lot to drive XBox sales. Halo 2 may not make the splash that, say, Shrek 2 on DVD did a few days ago, but at more than double the price per unit, and with some gamers likely to be queuing for their copies, there's a lot of moula at stake.
Me? I'll be snoozing. I've got Halo, but haven't had time to play it properly. I'll probably get the second game, but wait until it drops in price to at least below $50 (and I've got further through the first). I do enjoy my games, but I'm not hardcore, and personally I can't quite stomach playing $80+ for a game.
Will be interesting to see if Halo 2 replaces its older brother as the XBox game with the highest rated reviews ever.