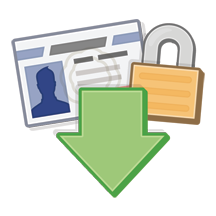 I had a quick look at Facebook's Download Your Information feature — evidently added a few months ago due to criticism about the accessibility of people's data once it's dumped into the Facebook bottomless pit.
You can find it via the My Account screen, by clicking Download Your Information.
It asks for some time to compile all the information — in my case this took about half an hour — then emails you to say it's ready to download, and provides a link and re-checks your password.
It comes as a single zip file, with HTML and pictures inside it.
Opening the index.html file, you'll find a version of your Profile page, with links to all the other information in the archive, including Wall, Photos, Friends, Events, Messages.
The Wall in my case was 1.5 Mb of HTML, going back to 2007, and I suspect is every Wall post (and replies from friends) I've ever made. Friends is just an unlinked list of all your friends (name only). Messages has all your message threads, and replies.
You can browse the photos via the directory of the same name; subdirectories reflect the folders. It looks like all the photo files are at the size that Facebook shrunk them down to when they were uploaded.
To actually get this information into another service, you'd need to do some trickery with munging the HTML. The code they've used seems relatively clean and easy to parse.
So all in all, quite a handy feature, and goes a long way towards dispelling fears that information pumped into Facebook was lost forever behind a zillion clicks of to show "Older Posts".
(It doesn't appear that Twitter has a comparable feature.)