To celebrate Pacman's 30th anniversary, Google's banner today is not only Pac-man-based, it's a playable game if you wait for a few seconds.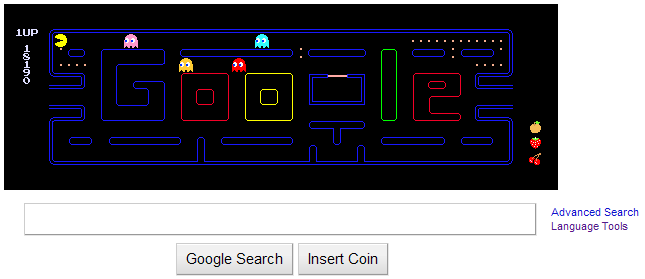 And yes, if you clear the first two boards, you get the traditional cut-scene.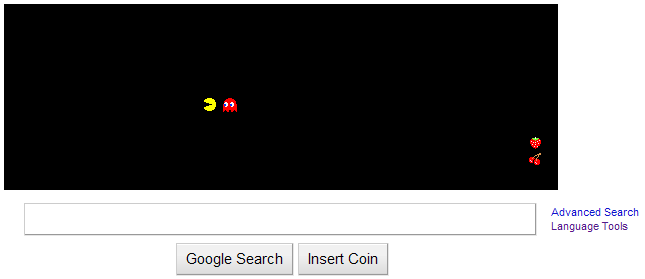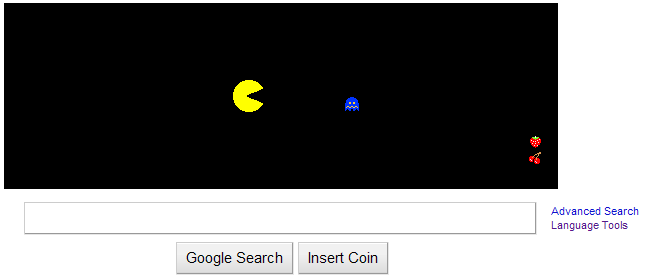 Is that totally awesome or what?
Am I correct in thinking it's not actually written in Flash, but in some clever HTML-type thingy?
Update: Yes. CNet reports: ccording to Germick, the company worked with Pac-Man's publisher, Namco Bandai, to make the project as realistic as possible. Yet the Google team, with the inspirational lead of Marcin Wichary, a Google senior user experience designer, built their version of the game from the ground up using JavaScript, HTML, and CSS.
Update 4pm: If you click Insert Coin twice, you get a two-player game (W/A/S/Z controls Ms Pac-Man). And there is one minor bug I've noticed — sometimes when chasing ghosts after eating a power pill, you can pass right through them.
Update 9:30pm: Google Pac-Man: The FAQ + Kill Screen Winners — contains more details on how it was written, where to find it when it's gone from the main Google page, and a picture of the"kill" screen.
Update Monday: It's gone from Google's home page now, but is still online here: www.google.com/pacman