Of all the useless error messages, this one would have to take the cake. I found it in a Word document tonight.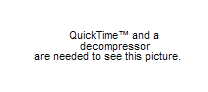 It appears to be caused by the author using Mac Word, and having pasted a picture into the document in some weird and wonderful way.
The error is useless, because I already have Quicktime installed on this machine. (I didn't particularly want it; it came with iTunes.) And if it wants a particular decompressor, it would be very helpful if it gave me a hint as to which one, and where I should get it from.
I couldn't even see a way of extracting the picture so I could try and throw it at another viewer program.
In this age of standards, when the vast majority of pictures flying about the place are either GIF, JPEG or PNG, and even proprietary standards like MS Word are almost universal, why on earth should I be getting an error message like this?
Evidently the only fix is to go back to the source (on the Mac) and change the picture to something more universal. Thankfully the document's author was around, so I could do that. But who knows why Mac Word lets people insert pictures in this way in the first place. (Powerpoint is susceptible too.)
Conclusion? Blame Microsoft!