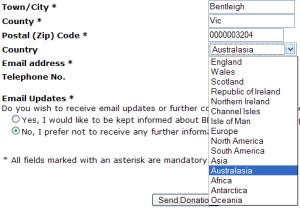 This time it's the BBC's Children In Need appeal. Okay, so CIN isn't meant to be seen outside the UK, but what with Channel BT and YouTube, it should be no surprise that bits of it (such as the superb Doctor Who short) have been seen around the world.
And I decided I wanted to donate. 'Cos it's a good cause and the dollar's going well against the UKP.
A quick Google and I figured out what they were talking about when they asked about Gift Aid. Something for UK taxpayers only, alas.
But the billing address caught me out. Okay, let's put my state name in the County field. That should work. Country… well they only seem to have continents, not countries. Australasia is it I guess. Dunno what the credit card company will make of that.
Submit… ah, it seems to be doing something. Uh oh, it rejected the postcode. Wrong length. Uh no, my four digit postcode is all I have. Tell you what, I'll stuff it with zeroes. 0000003204. That would crack Aussie Post up, I'm sure.
Resubmit and… oh. It thinks it's already running. "Your request is being processed….. Please be patient…."
Well I am normally, but at time of writing it's been giving me this error for 20 minutes.
Has it gone in? Maybe, maybe not. I'll check my credit card transactions in a day or two, and hope the Children In Need don't need my donation that much.
(Oh what the hell, you might as well enjoy it here too.)