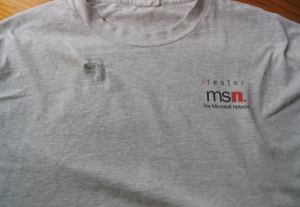 Today one of my longest-lasting geek t-shirt goes to meet its maker. It was an MSN beta tester shirt, sent to me in 1995 just after the Windows 95 release. It now has too many holes in it to be of use anymore.
Back then, of course, MSN was not a web site. It was the anti-Internet, a closed proprietary network using a bunch of jumbled technologies (some, like MediaView, were really really ugly) that I somehow got involved in testing… In retrospect, it was always doomed to failure given the rise of the Web, though I admit, I didn't really appreciate that at the time. I blogged about it here, some time back.
So, hasta la vista, MSN t-shirt.