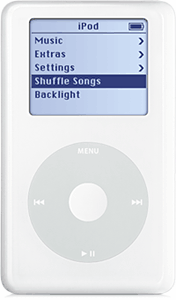 I have a love/hate relationship with my iPod. (It's a 40Gb 4th generation model.)
Why I love my iPod
The design is exquisite. The whole thing is beautiful. Even the power adapter is beautiful.
I've never had an MP3 player before, and I love using it.
Lock button: brilliant. Click wheel menu system: easy.
Bung a CD into the PC, it gets the track names from CDDB, rips it easily.
Syncing music is fast and easy via USB 2.
There's some very nifty addons available for it.
Get a good tune on it, pump up the volume, and I'm in heaven. You should have seen me dancing around the kitchen last night.
Why I hate my iPod
Can't use it with more than one PC. 40Gb of portable storage in my pocket, and I can't use it for moving files. (There are shareware tools to do this.)
It has no radio.
Yesterday Windows was recognising it as a drive, not an iPod. iTunes then complained another user was using it. I had to reboot to fix it. Maybe it works better with Macs, but I shouldn't have to buy one to find out.
It didn't come with a belt-clip. Okay, so maybe that would spoil the design. So I put it in a skin. The skin is pretty cool, but it doesn't look as nice as it does out of the skin.
Maybe I haven't been careful enough with the headphones, but the wire got pulled obviously a bit too hard on one earpiece, and now there's a little interference from it. My cheapie Sony earphones are tougher, if not as visually appealing.
It doesn't play WMA. I'm not totally enamoured of WMA, but it's the only thing offered by online music stores in Australia, since there are continual delays with the iTunes Music Store AU.
There are almost constant horror stories of people having their iPods freeze up, batteries die, or other hassles.
All of these hassles seem to result in the iPod going off to the iPod hospital and coming back empty.
iTunes can't work through the firewall at work, at least for CDDB lookups.
iTunes on Windows follows the Quicktime example of Apple trying to make their software look like Mac. If I wanted a metallic grey window title bar (which slightly changes shades of grey when it has focus), I'd have changed it to be that way in my Windows settings.
Conclusion
This is my first MP3 player. It works, and I'm not even considering of replacing it while it works. But if I had the choice over again, I'd buy another brand. I don't know which, but it wouldn't be Apple. In line with my movie reviews getting a thumbs up or thumbs down, I give the iPod a thumbs down.

Update Thursday 8am. Great feedback about some of these issues in the comments. Thank you all, I'll be investigating further.