Okay okay, I admit it, when my USB port at home was suspect, I loaded up my new iPod at work. Now I've got a new computer, I plugged the iPod into it, and fired up iTunes. I didn't expect this: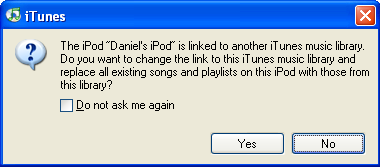 No two ways about it, that plain sucks.
I know Apple probably needed to show it was providing a degree of copy protection to get the co-operation to set up the iTunes store, but really, this is stupid. They could have at least allowed you to connect the iPod to a handful of computers.
There is an alternative: a Winamp plugin called ml-iPod which lets you copy tracks to the Pod without that kind of nastiness. I haven't got it to work yet, mind you — it doesn't see the device. Rest assured that I'm working on that…