Ooooooooooh. Seems Age IT writer Charles Wright isn't too keen on people disagreeing with him. In today's Age he writes about Hotmail's cancellation of free WebDav (Outlook/Outlook Express) access (bastards!) and mentions in passing that Fastmail.fm is great (so I've heard) and that it's better than GMail, which has "no spam protection to speak of."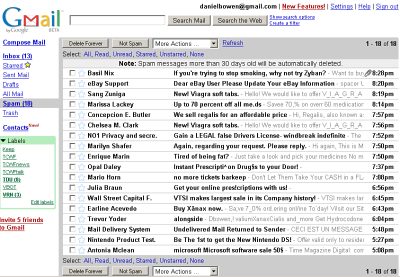 Oh. Coulda fooled me. So I left a comment on his blog, mentioning that actually GMail does have spam protection. He replied reckoning yeah but it only catches about 30%. I replied saying it was catching most of mine. This apparently inspired a followup blog entry making note of overzealous Google-lovers writing to him if he criticises the company.
Well, what can I say. I've been using GMail for some months now, and feeding it mail addressed to one of my oldest and most spammed email addresses (dbowen at custard dot net dot au, circa 1997). GMail catches most of them. I just logged in after being away for three and a half hours (gasp!) and it's caught 18 spams — no false positives, none slipped through into my Inbox. It's not always this good, but I have no major complaints.
Maybe he looked at GMail early on, when the filters weren't as good. Or maybe he attracts a higher class of spammer than me. Dunno. But it works for me.
…
By the way, anybody want a GMail invitation? They keep giving me lots, and although I've tried giving some away via GMail swap sites, they keep on coming back. Leave a comment with your email address in the email field (it won't display publicly, but I'll see it).